APMG conducted a survey of learners who had taken a Change Management Foundation exam. This article summarises the key findings.
98% of respondents said the Change Management training and certification had made them a better Change Manager.
The global pandemic has accelerated the rate of change within businesses and in turn, increased demand for those who have the skills to manage change. We sought feedback from learners to see if our Change Management Foundation training has helped them meet the challenges faced in recent years. The survey results and positive experiences shared by candidates show our global network of over 180 training providers, offering this course, are providing an excellent service. Imparting Change Management knowledge and boosting the confidence of attendees.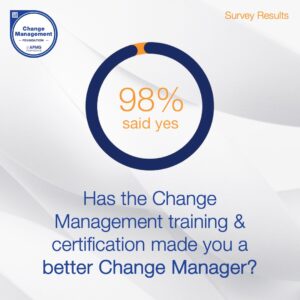 Methodology and Respondents
APMG's survey was emailed to previous candidates who have taken a Change Management Foundation exam between July 2020 and July 2022.
The survey ran from 28 July to 18 August and as everyone loves a prize draw, we gave away a new Change Management Body of Knowledge (CMBoK) reference book to incentivise participation.
There was a total of 112 respondents and though there is naturally always room for improvement the results demonstrated how effective our course is in assisting Change Managers to develop.
98% of respondents said the Change Management training and certification had made them a better Change Manager.
100% reported that the training experience had a positive impact on their knowledge of Change Management.
46% felt the Change Management certification had enhanced their earning potential.
97% said that the training experience had given them more confidence when managing change.
94% stated that the training equipped them with skills and knowledge they could apply immediately.
Almost 1 in 4 said that the Change Management certification helped them secure a new role or promotion
Increase your knowledge and confidence
If you would like to increase your knowledge and confidence in change, click on the link below to find out more about the AMPG International Change Management Foundation course